Madeira Airport Departures (FNC)
Not all flights may be showing. If not available use search above to find your flight by airline, airport or flight number.
Destination
Airline
Flight no.
Scheduled
Est./Actual
Status
Berlin (BER)
easyJet
U25334
05:10
Scheduled
London (LGW)
easyJet
U26402
05:25
Scheduled
Lisbon (LIS)
TAP Air Portugal
TP1692 expand_more(5)
06:00
Scheduled
Lisbon (LIS)
Azores Airlines
S48012
06:00
Scheduled
Lisbon (LIS)
Azul Linhas Aereas
AD7179
06:00
Scheduled
Lisbon (LIS)
Emirates
EK4774
06:00
Scheduled
Lisbon (LIS)
Luxair
LG1992
06:00
Scheduled
Lisbon (LIS)
Turkish Airlines
TK8125
06:00
Scheduled
Lisbon (LIS)
Ryanair
FR386
06:25
Scheduled
Porto Santo (PXO)
Binter Canarias
NT4936 expand_more(1)
06:30
Scheduled
Porto Santo (PXO)
Azores Airlines
S47936
06:30
Scheduled
Porto Santo (PXO)
Binter Canarias
NT98
06:30
Scheduled
Bristol (BRS)
easyJet
U22878
07:40
Scheduled
Porto (OPO)
easyJet
U27756
08:15
Scheduled
Porto (OPO)
Ryanair
FR365
09:05
Scheduled
No flight departures were found at Madeira Airport.
Flight Departures at Madeira Airport
Madeira International Airport is only a short drive from Santa Cruz via the ER239 route, and within 13.2 km/8.2 miles of the island's capital, Funchal. Passengers have access to flights to mainland Portugal, for example to Porto and Lisbon, and to other European destinations like Basel and Brussels, Bristol and Edinburgh, Hamburg and Munich, Paris and Stockholm.
Passengers should be at the airport at least 90 minutes before their flight departure time, if their destination is within the Schengen area. For non-Schengen flights within Europe, passengers should be at Madeira International Airport at least 120 minutes before their flights leave. Travelers for countries further afield must be at the airport at least 180 minutes prior to departure time.
Check-in is made easy. Travelers can either check in via the ANA App, which they can download onto their Smartphones via AppleShop and Google Play, or they can check-in at least 48 hours in advance online via their airline's websites. Passengers for the USA and Switzerland, however, can only check-in 24 hours in advance. There are also self-check-in stations at the terminal.
Luggage can be checked in at the drop-off counter in the terminal and check-in baggage stands, after which passengers should proceed to the security area. Passing through security means finally getting to the duty free shopping area!
Madeira International Airport offers passengers a wide choice of gifts and handicrafts, watches and jewelry, spirits and tobacco, kids toys, electronics, perfumes and cosmetics, international and Portuguese gourmet foods, chocolates and sweets in the terminal's outlets.
Travelers looking for refreshments will find eateries and coffee shops like Buondi Cafe, Starbucks, Pizza Hut, Cockpit, Gelati & Chef, Go To Cafe, and Sausade Madeira in the terminal.
Before catching their flight, passengers can relax in a spacious CIP Lounge.
Getting to Madeira International Airport
Car rental companies like Avis and Budget, Europcar, Goldcar, Guerin, Hertz, Madeira Rent, Rodavante and Sixt have service desks at the airport, so it's easy to arrange for returns of vehicles at the airport.
However, there are also shuttle services between West Funchal, Central Funchal and the airport, and a regular airport bus also serves these locations and the airport.
A local taxi company, the yellow Mercedes Benz taxis one sees on the island, also take passengers from their hotels in West, East or Central Funchal, Santa Cruz, Machico or Cãmara de Lobos to Madeira International Airport. A minimum fee of 4.00 euros applies to all destinations, and if you travel between the hours of 9.00 pm and 6.00 am, a 20% surcharge applies also (please see www.aitram.pt for further information on taxis on Madeira or telephone +351 291 765 760 for more information).
Was your flight delayed or cancelled?
You may be eligible to receive up to 600 EUR compensation per person in your party..
Claim Now!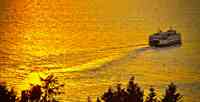 Half a million ferry passengers disembark every year at Funchal from Porto Santo and the Canaries...