Madeira Airport Arrivals (FNC)
Not all flights may be showing. If not available use search above to find your flight by airline, airport or flight number.
Origin
Airline
Flight no.
Scheduled
Est./Actual
Status
Lisbon (LIS)
TAP Air Portugal
TP1691 expand_more(8)
05:10
16:57
Landed
Lisbon (LIS)
Azores Airlines
S48025
05:10
16:57
Landed
Lisbon (LIS)
Azul Linhas Aereas
AD7178
05:10
16:57
Landed
Lisbon (LIS)
Capital Airlines
JD5415
05:10
16:57
Landed
Lisbon (LIS)
Emirates
EK4779
05:10
16:57
Landed
Lisbon (LIS)
Lufthansa
LH6950
05:10
16:57
Landed
Lisbon (LIS)
Luxair
LG1993
05:10
16:57
Landed
Lisbon (LIS)
Turkish Airlines
TK8106
05:10
16:57
Landed
Lisbon (LIS)
United Airlines
UA6860
05:10
16:57
Landed
Bristol (BRS)
easyJet
U22877
07:10
Scheduled
Porto (OPO)
easyJet
U27755
07:45
Scheduled
Porto Santo (PXO)
Binter Canarias
NT4939 expand_more(1)
07:55
Scheduled
Porto Santo (PXO)
Azores Airlines
S47939
07:55
Scheduled
Porto (OPO)
Ryanair
FR366
08:40
Scheduled
Lisbon (LIS)
easyJet
U27635
08:40
Scheduled
No flight arrivals were found at Madeira Airport.
Flight Arrivals at Madeira Airport
Flights arrive at Madeira International Airport from all over Europe, including destinations like Edinburgh, the Island of Jersey, London, Bristol, Brussels, Basel and Zurich, Amsterdam, Munich and Frankfurt, Hamburg, Hannover, Luxembourg, Gran Canaria, Stockholm/Arlanda, Aalborg and Aarhus, Nantes and Paris/Orly. Major airlines fly in and out of Madeira International Airport, including budget airlines like Easyjet and Norwegian, and flagship carriers like Lufthansa, TAP Portugal and British Airways.
Passengers arriving at Madeira Airport will find a taxi stand just outside the Terminal – yellow Mercedes Benz cars with green-blue stripes operate between island destinations and the airport. There are also shuttle services between Funchal West, Central Funchal and the airport, and a regular bus line serving the same locations. Funchal is ca. 13.2 km or 8.2 miles distance from the airport.
Tickets for the airport buses can be purchased on board from the driver. A single ticket costs 5.00 euros, a return ticket cots 8.00 euros for adults, children aged 6 to 11 pay 2.50 euros each, but must provide proof of their age via an ID card or passport. A timetable and further information is available at www.sam.pt/informacoes-aerobus.html.
The transfer by airport bus from Madeira International Airport to West Funchal takes around 50 minutes, to Central Funchal ca. 35 minutes. The first service of the day leaves the airport at 8.30 am, the last leaves at 6.30 pm every day and a little later at weekends and on public holidays.
The shuttle services run along similar timetables, but take only 30 minutes for the journey to Central Funchal, and another 20 minutes to reach West Funchal.
Taxis charge a minimum fare of 4.00 euros for all trips, adding 20% between the hours of 9.00 pm and 6.00 am. Travelling with suitcases costs an additional 1.50 euros per trip. The taxi operator also provides chauffeur-driven services to main tourist attractions and various hotel resorts and golf courses on the island.
Car rental companies at Madeira Airport have their service desks in the arrivals area before security on the ground floor. The Avis and Budget desk is open from 8.00 am to midnight everyday. The Europcar desk is open for business from 7.00 am to midnight daily and is in the same location. Other car rental companies providing car hire during the hours of 7.00 am to midnight are Goldcar, Guerin, Hertz, Madeira Rent and Rodavante. The Sixt service desk is open from 8.00 am to midnight.
Duty free shops are also open for business from 7.30 am to 11.00 pm every day in the Arrivals area, after passengers pass through security. Outlets include shops selling chocolates and sweets, watches and jewelry, fashion and accessories, perfumes and cosmetics, electronics, spirits and tobacco and handicrafts made locally.
Various cafes, including Starbucks and Buondi Cafe, serve passengers' needs before they leave the airport for their Madeira holiday or business appointments.
Was your flight delayed or cancelled?
You may be eligible to receive up to 600 EUR compensation per person in your party..
Claim Now!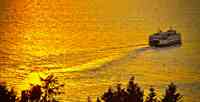 Half a million ferry passengers disembark every year at Funchal from Porto Santo and the Canaries...